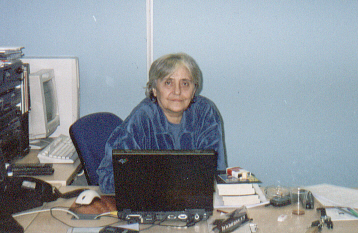 We had an interview about Elvis Presley with Sevin Okyay, who is known for movie critics, radio programs and articles on music and literature. You can find her article entitled "Came Elvis Into My Life" in our Turkish site. Nowadays she takes the recognition with the translation of "Harry Potter Books" into Turkish. We thank her very much...
(Interview by Korkmaz Uluçay, April 2003)
…….. / …….
Korkmaz: You wrote in your article "I didn't like Elvis much back then, because I was a James Dean fan". How did you happen to become one of Dean-fans?
Sevin Okyay: Well, because of my age…I was a teenager and there was only James Dean for us.
So, you didn't like it when Elvis showed up suddenly.
Well, actually, I wasn't one of those Dean fanatics. They were just two giants, one in Hollywood, the other in music. However, Elvis played in movies, too. Besides, I never thought that Elvis was a bad actor. Elvis was just ELVIS, you know? He did not need to be a good actor anyway. People were going to see his films, meaning to see Elvis on the silver screen and nothing else. Those were nice films, I think, the "Jailhouse Rock", for example. I really enjoyed it.
Have you seen most of his films?
Any film shown in our country…That means, nearly all of them…
Have you ever written any critics about his films?
Oh no, I haven't. I was mostly chasing James Dean, as I said. On the other hand, I surely compared one to the other. But there was a problem of Elvis' image in that time: ELVIS the PELVIS. It was strange to the kind of conservative societies like us, like it was to US, as well. I had prejudices, you know? More, I didn't think he was handsome back then. But when I think now, he was really very handsome. I prefer his early days now, especially when considering his latest days' taste of dressing, but who cares? He wasn't a model, he was only ELVIS. In 70s, of course, he was more mature. He had some pain in life and that led to an improvement in his singing way. I came to love these both sides of him. But, for God's sake, I think he was more handsome when he was young. I was not so impressed with his voice at the start, but suddenly I realized what a wonderful voice he had. An outstanding voice especially for ballads like "Love Me Tender" or "Are You Lonesome Tonight?". I like his rock songs, too, because he had a never ending energy and dynamism. He is as if he came from another planet, really. He did everything just with his skills and charisma at the start. Don't forget, in Elvis' time, there were no rich sponsors or image makers, nothing to support or promote the people like nowadays. Not so much money was used to spend for that. You had to have the "talent" and Elvis really had it.
What kind of music do you like to listen? I know, listening to your radio programs, you like jazz.
Well, I am listening to "A la Turca" beside the jazz. But I mean "the real old music", not the "arabesque" of today. I like old songs.
Are they better?
Yes, definitely. In every kind of music…Nowadays, I cannot see people like, say, Beatles who can write beautiful songs. No melody, and no lyrics to understand because of accents. No difference between the songs, either. Well, if the cause is the lyrics, why don't they try to write poems? I still like Mick Jagger and Tom Waitts. We experienced something like re-born in music in the latest days. Jagger is still like at his twenties. I saw him in his concert in Istanbul, it was unbelievable.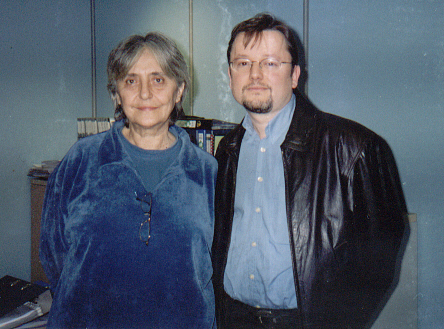 You say, in your article, "now, it's the time for Elvis, at home." Have you already started playing his songs?
Yes, I have…Fantastic... Elvis got used to my home and so did I to him. I have been listening to him more than ever since that "Elvis Night" with Atilla (Turkish author and DJ).
Are there any songs among them that you have not heard before?
Only a few. Not many. There weren't many among those Atilla played that night, either. How many songs does Elvis have in fact?
Nearly one thousand.
Well, then I must tell you that there are hundreds I haven't heard yet. One thousand is a big amount. No singer or other music band has such a big catalog. I think I was a bit conservative child, 'cause I came to like the Rolling Stones later, too. Well, to tell the truth, I like the music itself first of all, I consider the other things afterwards. I cannot like a bad singer just because he is good at political songs. On the other hand, there are some good ones in both ways, Gilbert Bécaud, for example.
Have you listened to Gilbert Bécaud's "Et maintenant" from Elvis as "What Now My Love?"
No, but I'd love to…It's so nice, that Elvis also sang other people's songs. I remember "La Paloma" right now.
Yes. It was entitled "No more"…Some friends do never listen to anybody but Elvis… Otherwise, they say, they feel guilty or like betraying. Have you ever loved any artist so passionately in your life?
No, never! No matter how much I love a singer, I still listen to the others, too. How can I stop watching other team's matches only because I support Beþiktaþ (Turkish football team)?
Do you support Beþiktaþ?
Yes…One of its fanatics.
There is some fanaticism, then?
Yes, why not? (laughter)…I am descending from a family full of Beþiktaþ fans. I am proud of it.
Do you listen to pop music?
Not so much.
How was it before?
Well, I used to listen to Timur Selçuk, Erol Büyükburç (Turkish singers) and some others on radio. They were that time's "brightest stars". I am not very interested in new names of today. I like Candan Erçetin and Sezen Aksu. Candan is also a dear friend of mine…Let's enter your Elvis' site now (using her notebook computer she enters the site meanwhile). It's really nice...Very nice…
Now, a usual question: your favorite Elvis songs?
"Are You Lonesome Tonight?", "Love Me Tender.", "Don't Be Cruel", "Jailhouse Rock"… Wait a minute...I also like "Heartbreak Hotel"…(starts singing "Don't Be Cruel" and not badly:…"You know I can be found… "I am thinking of....")…I like very much things like this. All of a sudden, while singing...
…he is changing his voice…
Yes, that's right... (She is laughing)…
A last thing...Would you like to give a message for ElvisTurk members, please?
I can tell that they are at the right place. This artist they love will never die. Elvis Fans will always be there…Elvis is not a "passing by" singer locked in a little period of time. He became a legend when he was alive…And we love him.